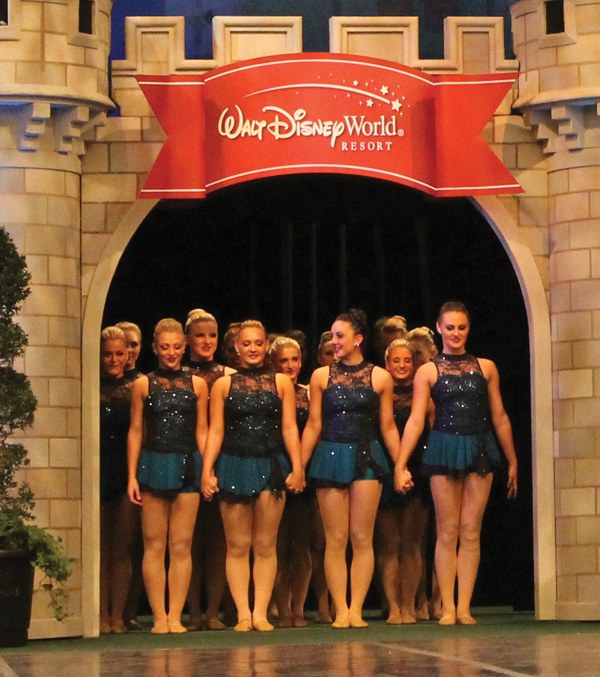 The University of Minnesota Dance Team preparing to take the floor at Universal Dance Association Nationals (photo by Universal Dance Association/Varsity)
Think it's all about cheering from the sidelines? Think again! Here's why you should consider going out for your school's dance team.
#1 You and your teammates will bring out the best in each other. "Being on a dance team has taught me to push myself. My teammates and I motivate each other to grow at every practice, so when competition time comes, we can all be our very best." —Faymie Westmoreland, University of Tennessee
#2 Teamwork will become your mantra. "It's not about individual talent; it's about what the team can do as a whole. An impressive solo turn combination is cool, but when an entire team does it in perfect unison, it's amazing." —Chelsea Woods, University of South Carolina
#3 The skills you develop will help you for the rest of your life. "Being part of a dance team taught me discipline, time management and how to take constructive criticism—skills that make me a better dancer and a better person."—Maren Thueson, Bountiful High School
#4 You'll get the chance to serve your community. "One of the best parts about being on a professional dance team is that we have so many opportunities to give back. Some of my favorite team memories are from spending time with the kids at the Primary Children's Hospital."—Nicole Gunnarson, Utah Jazz Dancers
#5 You'll get to keep dancing—and growing—after high school. "Being on the team has let me continue to share my talents, improve my dancing and make lasting connections in the dance world." —Michelle Lack, McLennan Community College
#6 You'll have many "once in a lifetime" experiences. "As a Carolina Girl, I've had opportunities that will stay with me forever. I performed at Williams-Brice Stadium when Carolina beat Number 1–ranked University of Alabama, and I've danced on the beach at National Dance Alliance Nationals." —CW
#7 You'll learn how to be a role model. "Dancing in front of 100,000 people forces you to have confidence and poise. You never know who's watching, so you have to think of yourself as a role model to any little girl in the crowd." —FW
#8 You'll see first hand that hard work pays off. "Rehearsing just three dances every day for nine months can seem tiresome and monotonous, but winning the state championship at the end of the year makes it all worth it." —MT
#9 You'll get serious adrenaline rushes. "The excitement of performing in front of massive crowds is incomparable. It makes all the hard work in rehearsals worth it. The atmosphere is electric, and I feel so much unity with my team." —NG
#10 You'll become part of a sisterhood. "Freshman year in college can be overwhelming, and it's easy to feel lost. But being involved in dance team gave me a family away from home. My team is my best support group." —ML
EVENT CANCELLATION
PROP & SHOE REGULATIONS
PERFORMANCE AREA
In the event of a natural disaster, terrorist attack, health epidemic, or involuntary cancellation of contest date or location no refunds will be made.  Danceline will make every effort to reschedule or relocate the event.
Fire, swords, knives and other dangerous props are prohibited. Simulted weapons with dull, safe edges are accepted with prior approval. No liquid, gel, glitter or other similar substance that would affect dancing surface is allowed. All props and shoes must be detailed with rubber or safe material that will not damage performance area floor. The school, studio, or performer will be held responsible for any damages that may occur. Tap shoes are not allowed directly on gym floor. If you perform a tap routine, please bring appropriate tab boards or other protective surface.
Performances will be on a regulation size basketball court (96' x 50'.) for most performance. Please note that solos and ensembles may be on a stage at some locations. Stage performances will be noted on the competition schedule.
FOOD
ADJUDICATION
Host schools at each contest will provide various menus to offer the public for all meals of the day.  Please note this is a fundraiser for this team and they appreciate your support.  No outside food or drinks will be allowed.  Please do not bring in ice chests.  We appreciate your consideration.
Professional judges will evaluate each performance in the areas of technique, showmanship, choreography, execution, appearance and overall effect. Points may be deducted in the areas of appearance, choreography and/or overall impression categories should costuming, movements, or music be deemed inappropriate for all audience levels. Should a dancer verbally expel inappropriate language while performing, a lower rating will automatically be assigned. This will be determined at the discretion of the judging panel. ​​All judges decisions are final.  Video Adjudication is offered at select competition tour locations.
MUSIC
All music can be on a high quality CD or mp3 player.  All music should be brought to the sound table upon registration/check-in to contest site.  Please label each CD with School/Studio Name, Team/Solo Name & Category. It is not the responsibility of Danceline or our sound tech to edit music on site or during a performance. All music should be edited before the day of the contest.  Additionally, it is the responsibility of the director to pick up all music either throughout the day or at the end of the competition.
COACHING GUIDELINES
Please note that this is a professional competition and performers are expected to be prepared and well rehearsed. There should not be coaching from the directors, choreographers or audience members during the performance time. Adjudicators may deduct points for coaching during a performance.